Two Alexander Street Collections Win Charleston Advisor Readers' Choice Awards
(ALEXANDRIA, VA) – The 2013 Charleston Advisor Reader's Choice Awards named two Alexander Street online collections—Silent Film Online and Underground and Independent Comics, Comix, and Graphic Novels—to its list of winners.
 
Silent Film Online was named the winner in the category of Best New Product. The collection contains more than 500 seminal silent films from the 1890s to 1930s that laid the foundation for the course of filmmaking worldwide. The collection relaunched in 2013 on Alexander Street Press's new online interface, making the streaming titles available with dozens of cutting-edge features to enhance students' and scholars' ability to discover and share content.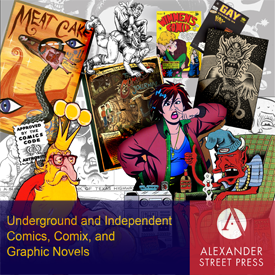 Underground and Independent Comics, Comix, and Graphic Novels received The Charleston Advisor's award for Best Content. Launched in 2010, the collection was previously named a Library Journal Best Reference and declared "essential" by CHOICE. This first-ever scholarly online collection of rare adult comic books features the best artists and top publishers in the genre, and has expanded rapidly in 2013 with the launch of Volume II.
A complete list of 2013 award winners is available here. For more information about Alexander Street Press's online collections, please visit www.alexanderstreet.com.  
###
About Alexander Street Press
Alexander Street Press is an electronic publisher of award-winning online collections and video for scholarly research, teaching, and learning. Our products are available to libraries and educational institutions worldwide via annual subscription or one-time purchase. Learn more at http://www.alexanderstreet.com.
Contact for Media Inquiries/Reviewer Access:
Abby Horowitz, Marketing Writer
Alexander Street Press
3212 Duke Street
Alexandria, VA 22314
703-212-8520 x 313
ahorowitz [at] alexanderstreet [dot] com