Link and Embed Best Practices
Alexander Street video and audio content can be integrated into Web pages and learning management systems in two ways: links or embeds. Both are provided for video and audio content, playlists, and clips in all Alexander Street collections. "Look for the following symbol below throughout the Alexander Street new interface for items this feature is available for:
Using a link will provide a permanent digital pathway to a specific video, audio album or work, part of a video, audio track, playlist, or clip. Using an embed will generate Java-based code that can be used to add a full-featured Flash-based player directly into any Web page. As with links, embeds can be used for videos, parts of videos, albums, audio tracks, playlists, or clips.
Tips for Links
When linking to content, please be sure to either copy and paste the URL in the text of the popup screen. Do not use the URL displayed in your Web browser's address bar. If you are copying a link into a learning management system, insert it as plain text and not as a Web link, and be sure not to add any spaces to the inserted text.
Tips for Embeds
When embedding content, please be sure to either copy and paste the complete text of the embed code in the popup screen. You can check by verifying that the code starts with "<script" or "<iframe" and ends with "/script>" or "/iframe>". This embed code should be used only in Web pages. Word, Excel, PowerPoint, email clients, and other desktop software do not support this code. Depending on the Web editor you are using, you may need to use the "source code" option for inputting embed codes, as plain text may not be supported. For more information about using iframes, visit the w3schools iframe page.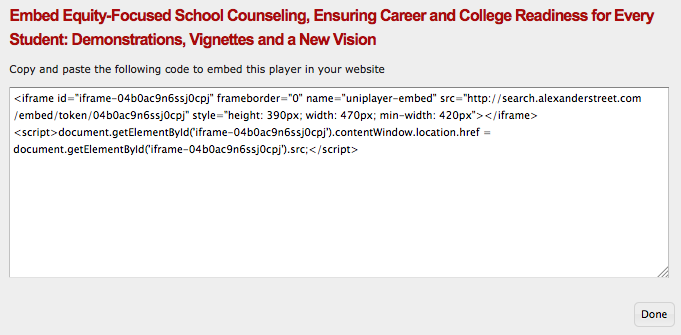 Proxy
To allow for seamless off-campus playback, we are able to insert your institution's proxy information into all links and embed codes on Alexander Street Press' new interface. Off-campus users may see a login page instead of the embedded media or intended interface page if this authentication step is not in place.
Please contact your account manager if you would like to set this up for your institution.
NOTE: Due to recent browser security changes, linking to a secure page from a non-secure page, or having proxy information inserted in the middle of URLs instead of at the front, can result in authentication issues. Should you see your proxy information inserted into permalinks, but are still being asked to log in by our site, please contact your account manager using the link above.
Embedding via Learning Tools Interoperability
Choose the LMS you use from the list below to download a PDF that will walk you through the LTI embedding process.
For details on where to find further information on the configuration settings and LTI use cases of your course management system, please see the support links listed below.
There are always more ways than one to accomplish something in a course management system, but these quick tips may help you get started and troubleshoot problems.

Other Valuable Information
Some browsers have security settings that do not allow a mix of https: (secure) and http: (non-secure) content on a Web page. As both protocols are fully supported by Alexander Street, you may wish to use one or the other in all embed URLs and links that you use in Web pages and learning management systems.
If you have any questions about using links or embeds, please contact the Alexander Street Customer Support team.